Megabus - For latest specials click on above image

Reasons to Travel with Megabus
Regular services to Europe on air-conditioned coaches, reclining seats, comfortable legroom and onboard toilets. Megabus.com provides low cost travel, with prices starting from as little as £1/€1 (+ 50p/50c booking fee) across the UK and Europe.
City to City Travel
Launched in the UK in 2003 megabus.com has since grown rapidly and now links over 100 destinations across the UK and Europe. The UK network stretches from the Highlands of Scotland to south-west England, connecting some of the UK's most popular destinations, including London, Birmingham, Manchester, Liverpool, Leeds, Edinburgh, Glasgow and Cardiff. The European network operates in France, Italy, Belgium, Germany, Holland and Spain. Some of our most popular European destinations include Paris, Brussels, Barcelona, Rome, Munich and Berlin.
Priority Boarding
To travel you simply need your booking reference, which you will have to show to the driver when boarding your coach.
Generous luggage allowance
A free luggage allowance of one medium sized suitcases stored securely in the hold. The coach driver will load and unload your luggage for you.
WiFi included onboard
Free Wi-Fi is included on some of our London to Paris PLUS services and London to Amsterdam PLUS services keeping you connected to your friends and family. Check timetable for details of PLUS services.
Lower Cost
Travel across Europe at very competitive prices in our comfortable, reliable and modern coaches.
Green Travel
Traveling by coach is the most environmentally friendly form of public transport. When you travel by Megabus instead of by car, you are reducing your carbon emissions.
Megabus provides
you with city to city travel
Bookings to all European destinations will be available from many points across the UK with a change of vehicle at London Victoria Coach Station. Passengers will require to check in and provide passport information prior to boarding the coach at Victoria Coach Station before departure for the ferry crossing to the continent via either Dover or Ramsgate to either Calais or Boulogne.
Discounts
You can usually book megabus tickets up to 6 weeks in advance but from time to time megabus will open up their sales windows to allow booking even further in advance. This allows passengers to search and buy their tickets even earlier, meaning there are likely to be more £1/€1 (+ 50p/50c booking fee) seats left!
If you are a student, and you have a Valid NUS Extra card, you can place your card number into the relevant box on the website and get a further 10% off.
You should also look out for the free seats offer which usually runs at the beginning of the year. At this time megabus offer thousands of free seats to passengers to encourage you to try out the great megabus travel.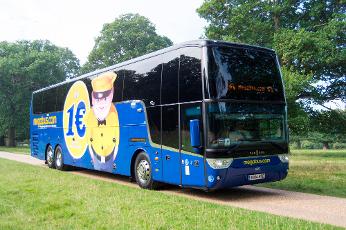 Just Coaches ?
Is megabus just coaches?
Since its launch megabus.com has expanded to offer customers low cost travel on coach and rail. megabus also offers linked coach and rail journeys (megabusplus).
megabus: megabus coaches are easily recognisable by their distinctive blue and yellow branding. megabus operates coaches equipped with on board toilets. Rest stops will be provided on our longer journeys and selected services.
megabusplus:The innovative coach-rail service, megabusplus.com, is the first of its kind in the UK. It gives passengers a fast, integrated journey between Yorkshire, Lincolnshire and London by comfortable coach and high-quality train, provided by East Midlands Trains.
megatrain:Offers passengers the opportunity to acquire low priced rail tickets by booking through megabus.com. megatrain travels to a number of destinations throughout the UK: From London as far North as Glasgow, London to destinations such as Sheffield, Nottingham and Peterborough and London to the South West, such as Portsmouth, Exeter and Bath.
megatrains are served by a number of Stagecoach partners; Southwest trains, Virgin trains and East Midlands trains.
We're the UK's top provider of scheduled coach travel to Europe. This is your easy way to make sure you don't miss out on all that Ireland and Europe have to offer. As part of StageCoach, we can offer connections by coach from all over the UK.