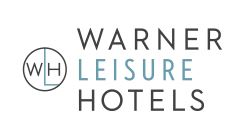 Holidays and Breaks by Coach
Please select the Relevant Button nearest to your departure point or hit details when only one button shown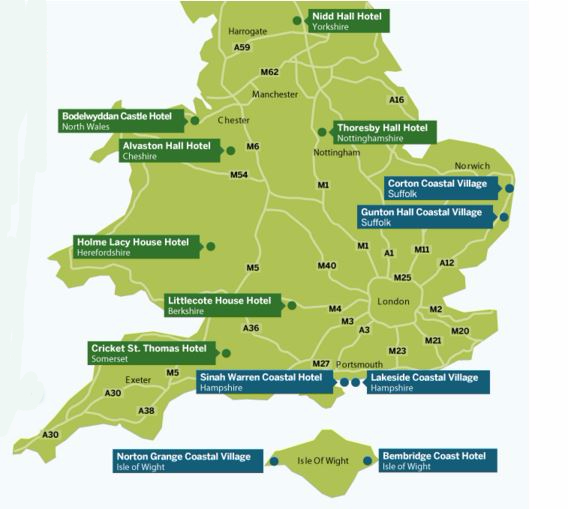 Great Coach Holidays to Warner Leisure Hotels.
Exclusively for adults - Warner Leisure Hotels
Great locations, stunning historic buildings, lovely rooms, excellent food and sensational live entertainment are only the beginning of a Warner break.
Whether you're looking for a lively activity break, a cultural experience break or a relaxing spa break a Warners Leisure Hotels break will ensure that there's simply something for everyone.
All of our Warner Leisure Hotel breaks include FREE local joining points, luxury coach travel and included excursions.
Additionally each of the hotels offers a variety of experiences for you to try. Breakfast, a three course dinner and accommodation are all included in the price.
All we ask you to do is simply relax and enjoy yourself.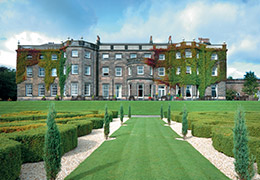 A Grade II-Listed Retreat
Nidd Hall Hotel is a Grade II-listed retreat set near Harrogate in the heart of the Yorkshire. The story goes that Nidd Hall is where Edward VIII first met Wallis Simpson, and as you pull up in front of the old house, it's easy to see why. It just feels special! This magnificent hotel was built in the 1820's for Benjamin Rawson, a wealthy Bradford wool merchant, on the site of an Elizabethan manor house. Nidd Hall lies within 45 acres of gardens which are surrounded by rich and varied parkland and the gardens are Victorian and Edwardian and have formal stepped terraces.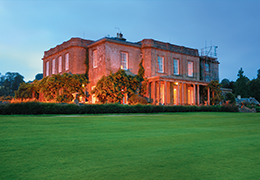 Cricket St Thomas Historic Hotel
Set in 160 acres of lakes, cascades & gardens
Cricket St Thomas Historic Hotel is situated in South Somerset, surrounded by rolling countryside. Set in 160 acres of lakes, cascades and gardens, it is just perfect for a relaxing break. It has historical links to Lord Nelson and was featured in the TV series 'To The Manor Born'. With peaceful lakes, secluded woodland walks and beautiful, vibrant gardens, Cricket St. Thomas is now an even better place to unwind. Just 30 minutes drive away is the renowned 'Jurassic Coast' and we feature this on one of our included excursions.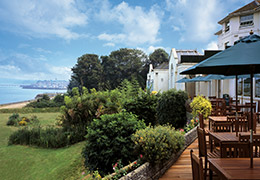 Norton Grange Coastal Village
One of the best spots on the Isle of Wight
Norton Grange Coastal Village is one of the best spots on the Isle of Wight to relax and enjoy the spectacular views of the Solent. With the outside decked area you can enjoy a spot of lunch or glass of Pimms while watching the boats sail by. The village is perfectly situated, in Yarmouth, to explore all of the natural wonders of the Isle of Wight with The Needles just a stones throw away. At Norton Grange the party kicks off after dinner, with great nightly shows in The Mariners Show Lounge followed by late entertainment in The Waterfront Lounge.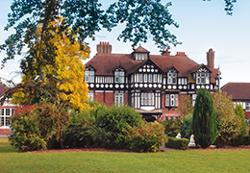 Alvaston Hall is a half-timbered Victorian country house five minutes from the old Cheshire riverside town of Nantwich. Alvaston Hall is a perfect retreat with its very own golf course, indoor swimming pool and so much more there is plenty to do here. The fabulous cabaret is a real favourite here and you can enjoy a different show every night, with music, laughter and dancing. We're so excited to let you know about the £12.5 million-worth of dazzling new developments now open at Alvaston Hall - the largest redevelopment in modern Warner history!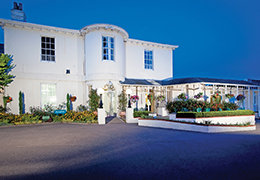 Gunton Hall Coastal Village
Within walking distance of the beach
Even though it's within walking distance of the beach, Gunton Hall located near to Lowestoft on the east coast is surrounded by 55 acres of woodland gardens, a picturesque lake and pitch and putt course. So it's more relaxing than you might expect a seaside destination to be. But the village square, bowls and leisure complex and large dance floor still gives us the buzzing, sociable atmosphere you'd expect from Warner. If you would rather enjoy a more active visit to Gunton why not take part in the abundance of activities to keep you on your toes. No matter how you choose to fill your days there is plenty on offer - Indoor bowls, table tennis, rifle shooting and archery, indoor heated pool, sauna and steam room.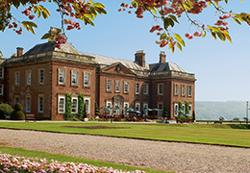 Magnificent, beautiful and ornate
Naturally, it's magnificent: beautiful ceilings, ornate state rooms and spectacular formal gardens, restored to their original design. Herefordshire's countryside offers almost as many ways to relax as the hotel does. Immerse yourself in the glorious gardens, historic courtyards and activity lawns. You might even pick up a few tips from the gardener, if he doesn't catch you scrumping! See the Monkey Puzzle Tree in the grounds that is over 250 years old!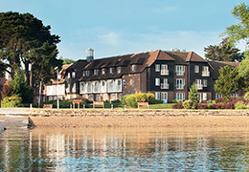 Sinah Warren Coastal Hotel
Glimmering waves and colourful yachts
With the glimmering waters and colourful yachts gliding by, you could almost be on the Riviera. Stroll round elegant gardens, take a dip in the pool (indoor or out), try a new activity, or simply relax on the terrace or in the contemporary coffee lounge. This friendly, popular hotel on Hayling Island has sea on two sides, a golf course nearby, stunning sea views over Langstone Harbour, archery and beauty treatments.
A perfect seaside setting
A perfect seaside setting with sea breeze gardens, fantastic Solent views, unique beach and top-notch entertainment. Bembridge is also an ideal base for visiting the Isle's best attractions, including Osborne House and Cowes. And, with coastal walks, pitch and putt, bowls, tennis and more, you can have fun by the seaside just as you remember it. Free WIFI in public areas. Indoor heated pool, sauna and steam room.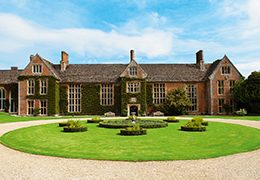 Set in 113 acres of gardens and rolling parkland
Littlecote House, set in 113 acres of gardens and rolling parkland, is located near Hungerford in the Royal county of Berkshire. A Roman mosaic, the stained glass window marking Henry VIII meeting Jane Seymour, the rooms where D-Day was planned. There's plenty to try here: from archery and tennis to snooker and our sauna. Fabulous Late Lounge to enjoy live music and entertainment, Indoor heated swimming pool, sauna, bubble pool and Salon Spa.
Brilliant sea views, live entertainment, comfy chalets and deckchairs
Corton's all about; brilliant sea views, live entertainment, comfy chalets and deckchairs. The Clifftop lodges even look like beach huts. This seaside village on Suffolk's Sunrise Coast has a lively, welcoming kind of ambience to it. Guests get to know each other over shuffleboard, curling, crazy golf and giant Jenga. Now that's real seaside fun. At Corton, the choice is yours and there is so much to do either around the village or out and about. There is a brand new games lawn featuring some amazing outdoor activities there really is so much to do as well as indoor heated pool, sauna and steam room.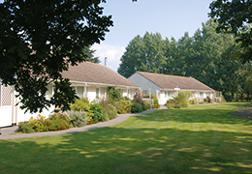 The perfect place to unwind
At Lakeside it's the bright courtyard with its coffee shop and bar that lends it a cosy village feel. But it's not the only great place for friends to socialise, with the shuffleboard, croquet, bowls and swimming pool too. Finding a quiet corner is easy though, with the beach on your doorstep and a big lake, perfect for meeting the odd duck!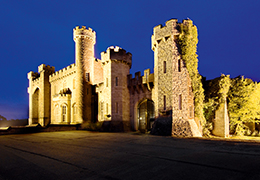 This Victorian castle looking out over its peaceful estate never feels crowded. Here you can the best of both worlds - a setting between mountains and coast - the scenery is just beautiful. With its new stunning glass Atrium inside the castle walls provides a newly extended restaurant, bar and lounge. Explore the museum and gallery, get stuck into the day time activities, see if you can find your way out of the maze or just relax in the wonderful leisure facilities.