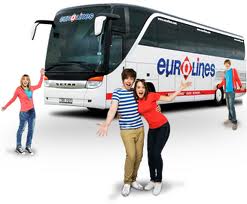 Eurolines - For latest specials click on above image


Reasons to Travel with Eurolines
Regular services to Europe on air-conditioned coaches, reclining seats, comfortable legroom and onboard toilets.
City to City Travel
Delivering you door-to-door in 29 countries across Europe. Connecting you to over 500 destinations, covering the whole of the continent.
Priority Boarding
Be first in line to board and choose your seat with Priority Boarding available on all our services from London to Paris for just £3 extra per person. Simply click 'Add Priority Boarding' before confirming your booking.
Generous luggage allowance
A free luggage allowance of two medium sized suitcases stored securely in the hold. The coach driver will load and unload your luggage for you.
WiFi included onboard
Free Wi-Fi is included on both our London to Paris PLUS services and London to Amsterdam PLUS services keeping you connected to your friends and family. Check timetable for details of PLUS services.
Lower Cost
Travel across Europe at very competitive prices in our comfortable, reliable and modern coaches.
Green Travel
Traveling by coach is the most environmentally friendly form of public transport. When you travel by Eurolines instead of by car, you are reducing your carbon emissions.
Eurolines provides
you with city to city travel
Delivering you door-to-door in 29 countries across Europe.
Discount Card
Take advantage of our Discount Card and save 25% on your travel.
Connect from just £15
Leave the UK by Eurolines and connect from anywhere in the UK
We're the UK's top provider of scheduled coach travel to Europe. This is your easy way to make sure you don't miss out on all that Ireland and Europe have to offer. As part of National Express, we can offer connections by coach from all over the UK.